File Explorer, previously known as Windows Explorer, is a file manager application that is included with releases of the Microsoft Windows operating systems from Windows 95 onwards. It provides a graphical user interface for accessing the file systems.
This module led by Mrs. Mamata Rao demanded us to do a usability study of the file explorer and then redesign it. 
Usability study was conducted for 6 participants to identify the issues faced while using the Windows File Explorer.
1. Filling form for a competitive exam that requires Passport Size photo (JPEG/ PNG), Signature (JPEG/PNG), Aadhar Card Scan (PDF)
 
2. Since it is an exercise with explorer, the files are already in proper dimensions and formats

3. Move all the files to a folder on Desktop

4. Location of required files

       
•
Passport Size Photo: Pictures folder
       
• 
Signature: D Drive
       
• 
Aadhar Card: Downloads
1. On the Desktop, create a folder named 'Competitive Exams'. It contains a new Folder titled 'Exam 1'. Copy the mentioned files from their respective locations to the Folder 'Exam 1', by doing the following:
• 
To view the files in Pictures folder, enlarge the icon size to 'Large Icons'
       
• 
Search for the file name 'User Test Sign' in D Drive to get to the file
       
• 
To view the Aadhar card in Downloads, sort the files/folders according to their type              turn on the 'File Preview'
 
2. Moving all the files to the 'Exam 1' folder, rename them as follows:
• 
Passport Size Photo: PP_SIZE
       
• 
Signature: SIGN_SIZE
       
• 
Aadhar Card: AC_SIZE 

3. Since you got to keep using this folder for other exams, Pin the folder in Quick Access

4. Finally Zip the folder with the name 'Test Successful'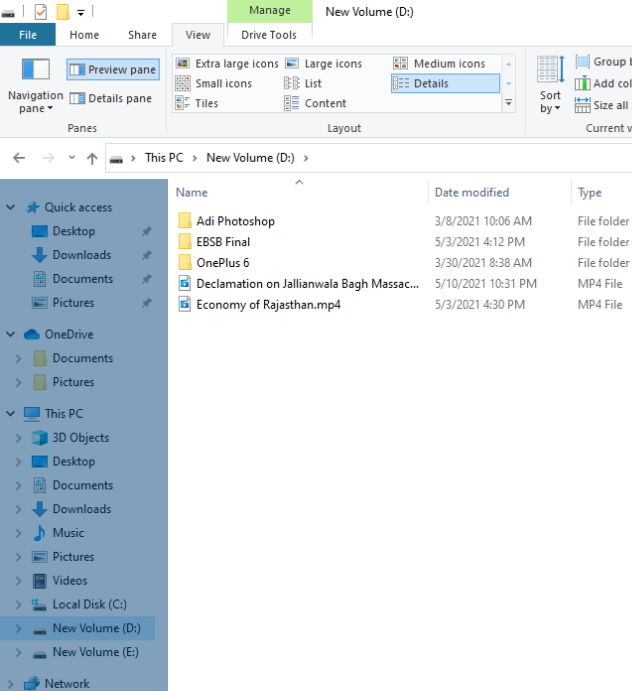 __________
Redesigning Windows File Explorer
To modify the windows file manager such that it becomes easy to locate similar files and also help in removing duplicate files.
Creating 'Smart Tabs'. Smart Tabs will be a collection of similar files spread across the system. They will act as an extension to 'Shortcuts' as actions performed on them will be visible on the main file as well.

Smart Tabs will be highly customizable; from the color of the tab to their default view, everything can be varied depending on the files stored inside the tab and your preferences.
All the files follow the already existing Windows architecture. When 'Smart Tabs' are created, they start showing particular file types inside those tabs. When deleted from the tabs they prompt and ask if we would like to delete the main file as well or just its instance from the 'Smart Tab'
The Smart Tabs setup will begin the moment we start our PC for the first time. The wireframes while setting up of Windows and after setting up look like this: